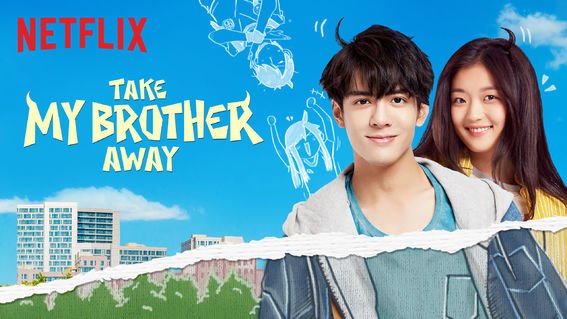 Profil:
Drama: Take My Brother Away

Country: China

Episodes: 30

Aired: Jun 28, 2018 – Jul 29, 2018

Duration: 45 min.

Related Content

Go Brother! (Adaptation)

Native Title: 快把我哥帶走

Also Known As: Take My Brother Away, Please!

Genres: Friendship, Comedy, Life, School, Youth, Family
Related Content
Cast:
Sinopsis:
Seperti apa saudaramu? Untuk Miao, saudara laki-lakinya Fen adalah seseorang yang akan menggodanya dan membuatnya meledak 100 kali sehari; bukan hari yang damai karena keduanya bertarung setiap menit. Namun, ketika masalah datang, Fen akan menjadi seorang saudara yang peduli
dan penuh kasih sayang yang melindungi adik perempuannya dengan segala cara.
What's your brother like? To Shi Miao, her brother Shi Fen is someone who would tease her and make her explode 100 times a day; not a peaceful day as the two are fighting every single minute. However, when troubles come, Shi Fen will become a caring, loving brother who protects his little sister at all cost.
Download Drama China Take My Brother Away Sub Indo:
Streaming: https://ns21.club/movie/take-my-brother-away-2018/
HardSub Indo
Size: 480p
Episode 01 | Episode 02 | Episode 03 | Episode 04 | Episode 05 |
Episode 06 | Episode 07 | Episode 08 | Episode 09 | Episode 10 |
Episode 11 | Episode 12 | Episode 13 | Episode 14 | Episode 15 |
Episode 16 | Episode 17 | Episode 18 | Episode 19 | Episode 20 |
Episode 21 | Episode 22 | EPisode 23 | Episode 24 | Episode 25 |
Episode 26 | Episode 27 | Episode 28 | Episode 29 | Episode 30 |
Download Drama China Take My Brother Away Sub Eng :
HardSub Eng:
Size: 720p
Episode 01-05
Episode 06-10
Episode 11-15
Episode 16-20
Episode 21-25
Episode 26-30